Anneke Fidder (1996, Velp, The Netherlands)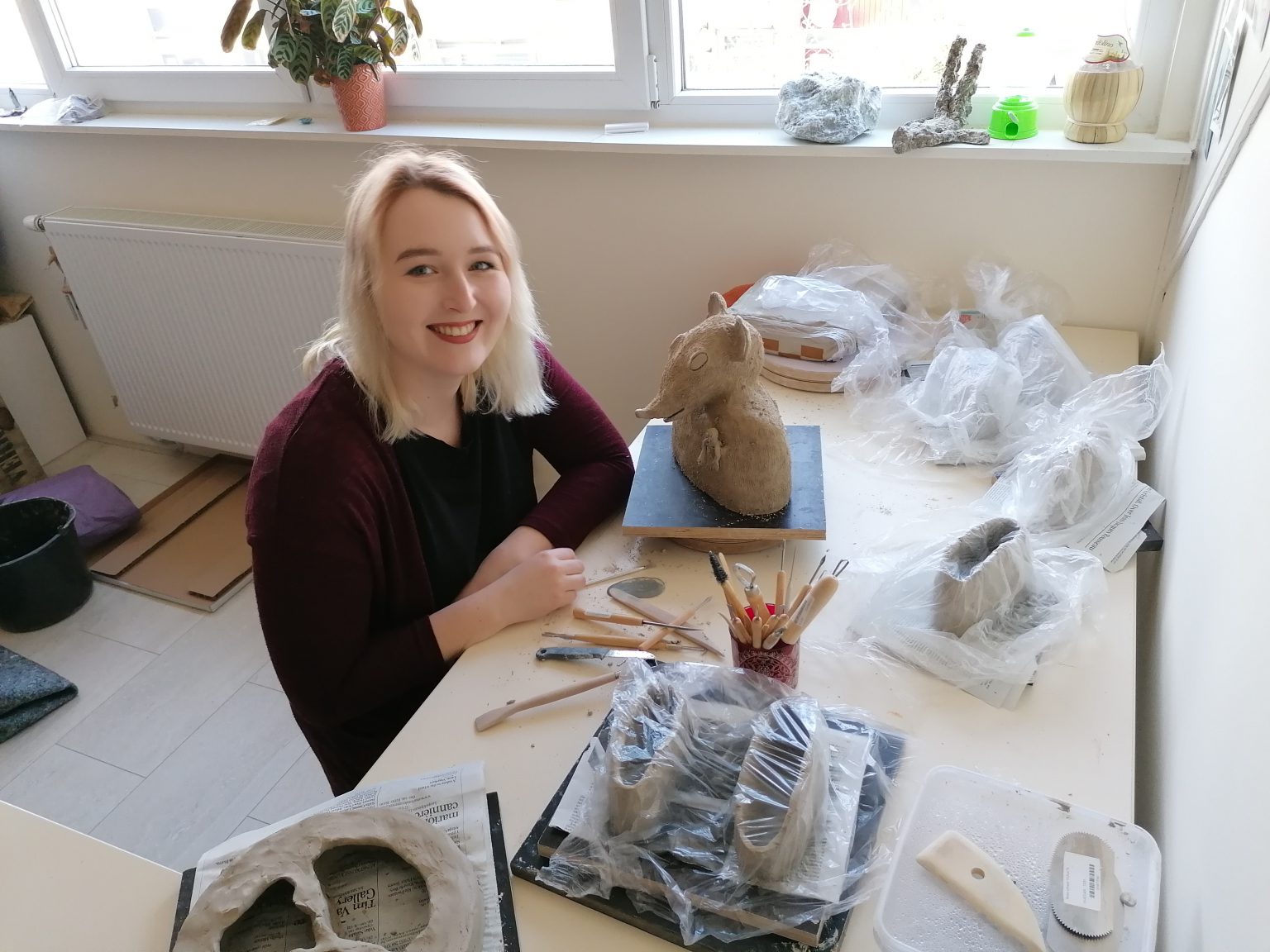 Visual Artist mainly working with sculpture and drawings. Fidder works with a variety of materials, Such as ceramics, Textile and wood.
Anneke Fidder has an interest for the human, her works usually include psychology and human emotions. A lot of her works are about the human condition and how to make life bearable. She thinks we should be able to laugh about everything in life. A lot of her works are portraits, she is not so interested in the anatomical appearance and embraces the clumsy nature of her work.
Education
2015-2019 Bachelor Fine Art/ Base for Experiment Art and Research, ArtEZ University of the Arts, Arnhem, The Netherlands
2014-2015 Pre Education Art and Design, ArtEZ University of the Arts,
Arnhem, The Netherlands
Internships
2018 Artist assistent, Anne Wenzel, Rotterdam, The Netherlands
Residencies
2020 NPO Radio4, Opium Atelier, (located at my own studio due to the COVID-19 Outbreak), March 30 – April 3 2020
Exhibitions
UPCOMING// 2021 Kunstmoment Diepenheim, Diepenheim, The Netherlands, Group Exhibition, Artist
UPCOMING// 2021 Huntenkunst, Ulft, The Netherlands, Art Event, Artist
2020
ΔΩΡΕΑΝ (Doreán), Galerie De Sleedoorn, Zetten, The Netherlands, Group Exhibition, Artist
2020 Menselijk ,Galerie Pouloeuff, Naarden-Vesting, The Netherlands, Group Exhibition, Artist
2019 Jong Talent, Velp (NB), The Netherlands, Group Exhibition, Artist
2019 Menzis Jong Talent Podium 2019, Wageningen, The Netherlands, Private Exhibition, Artist
2019 Ontwricht, Dijkmagazijn Winssen, The Netherlands, Duo Exhibition with Bram Groeneveld, Artist
2019 ALIEN-NATION, Stichting KOP // BUT Film Festival 2019, Breda, The Netherlands, Group Exhibition, Artist
2019 Fourth Wall // ArtEZ BEAR Finals 2019, Arnhem, The Netherlands, Group Exhibition, Artist
2018 Wereldwijd de Heerlijkheid, Hemmen, The Netherlands, Group Exhibition, Artist
2018 Fidder & Louter, Zutphen, The Netherlands, Duo Exhibition with Hester Louter, Artist, Coordinator
Coll
e
ctions
Works in various private collections
Publications
2020
Wereldwijd de heerlijkheid 2018, Catalogue